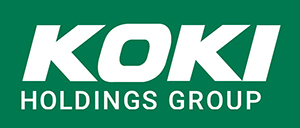 KOKI HOLDINGS AMERICA LTD.
1111 Broadway Avenue
Braselton, GA 30517
770-925-1774
Fax: 770-279-4293
www.metabo-hpt.com
Brief description of product lines:
Metabo HPT (Koki Holdings America Ltd.) offers an extensive line of professional grade power tools and accessories for woodworking, metalworking, drilling and fastening, concrete drilling and cutting, outdoor power equipment products as well as a complete line of pneumatic nailers, staplers, compressors and collated fasteners. From headquarters in Braselton, GA and satellite offices in the United States and Canada, Metabo HPT supports over 4000 retail locations carrying Metabo HPT, Hitachi and Tanaka tools, and over 1000 authorized service centers. Koki Holdings America Ltd. is the North American division of Koki Holdings Co., Ltd.
Brand names:
Metabo HPT, Hitachi, Tanaka
Technical Contact:
866-775-9429