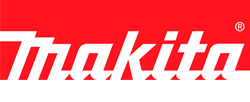 MAKITA USA, Inc.
14930 Northam Street
La Mirada, CA 90638-5753
714-522-8088
Fax: 714-522-8133
www.makitatools.com
Brief description of product lines:
It all started with the motor when Makita Corporation was founded in 1915 as an electric motor sales and repair company. Today, Makita leads the industry and meets the demands of the construction world with power tools, outdoor power equipment, pneumatic tools and accessories engineered to help make professional users more productive and meet high efficiency standards. Makita tools deliver the power and performance required for industrial applications, and Makita's expanding line of cordless tools give contractors longer run time and faster battery charge time. Makita tools are more compact with less weight, lower vibration and superior ergonomics for increased comfort, job after job.
Brand names:
Makita®

Technical Contact:
800/4-MAKITA (800/462-5482)